Brac Island
Brac Villen sind wunderschöne Ferienhäuser auf der Insel Brac, Kroatien. Diese Villen bieten den perfekten Ort, um Ihren Urlaub inmitten der atemberaubenden Schönheit der Adriaküste zu verbringen.
Brac Island ist eines der schönsten Reiseziele für den Sommerurlaub in Kroatien. Unter all den Dingen, für die Brac bekannt ist, sticht vor allem zwei heraus: der strahlende Kalkstein, der beim Bau des Diokletianpalastes in Split verwendet wurde, und Zlatni rat, ein kieseliger Strand in Form eines Horns, den Sie wahrscheinlich schon aus Reisemagazinen kennen.
Villen auf Brac, Kroatien - Villen zur Miete in Kroatien direkt vom Eigentümer!
"The world is a book, and those who do not travel read only one page."
― St. Augustine
Among all the things Brač island is known for, two things stand out: its radiant limestone used to build the Diocletian's Palace in Split and Zlatni rat, pebbly beach shaped like a horn that you already know at least from some travel magazine.
Brač is the largest Dalmatian Island and the highest Croatian island, with its peak Vidova Gora. This island has incredible landscapes, and here you'll see the best nature has to offer, limestone, steep hills, pine trees, olive trees, vineyards, inky waters, pebbles, bays, coves, and coves much more. Besides the magnificent nature, this island will enchant you with its charming architecture, mystical history, quiet and intriguing villages, and rich and diverse gastronomy. Two main settlements on the island are Supetar on the northern side and Bol on the southern side. Besides these 2, many others are along the coast and the island's interior. These villages are worth visiting and exploring as each brings new experiences, emotions, flavors, and smells.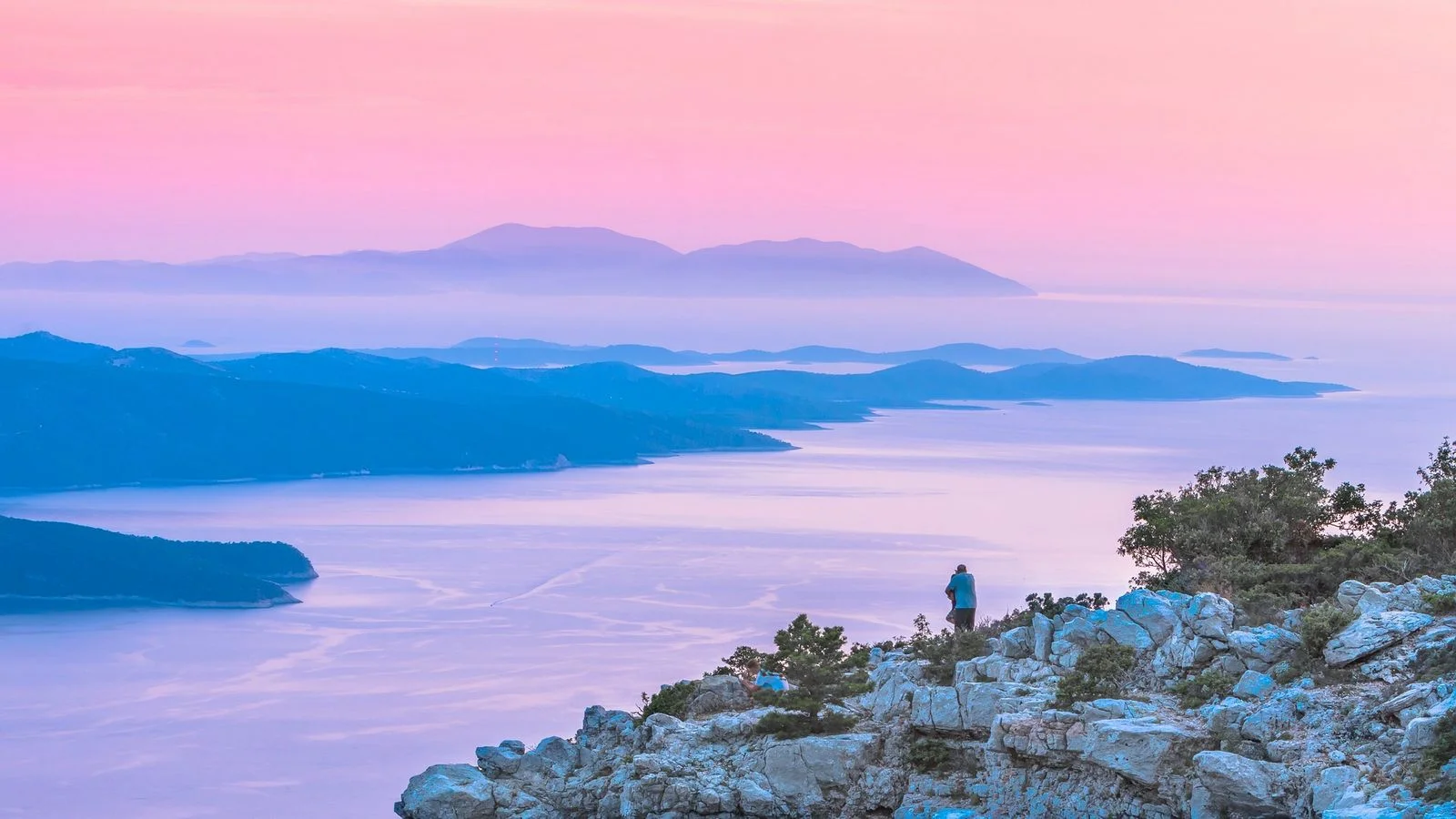 The first step to explore Brac island is to find a place to stay. Check out our Brac villas!
SUPETAR CEMETERY
A very unexpected and unusual highlight of Supetar is its cemetery. Suppose you're arriving by ferry from Split. In that case, you will see the graveyard while approaching the port of Supetar, and one part stands out – the splendid mausoleum of the Petrinović family. The mausoleum was built between 1924 and 1927 out of Brač limestone in byzantine and secessionist style as a wish of Mr. Frane Petrinović, one of many emigrants from Brač who spent most of his life in Chile. This mausoleum is a true ode to Brač limestone and the art of stonemasonry.
SUPETAR
If the island had its capital, Supetar would surely be the one since it is the main port of entry to Brač island and its administrative center. Besides that, Supetar is the island's biggest town. When you get off the ferry, do not continue straight to your final destination, but take some time walking from the port to the town center. You will pass through a small network of medieval streets full of cafes, small shops, and galleries. The whole of Supetar bay was inhabited in Roman times. By now, we've already learned that Romans have discovered true gems on our side of the Adriatic. Due to its excellent geographical position, the town of Supetar is a perfect starting point to explore the whole island. Besides the town of Supetar, you should also visit the small, picturesque village of Mirca.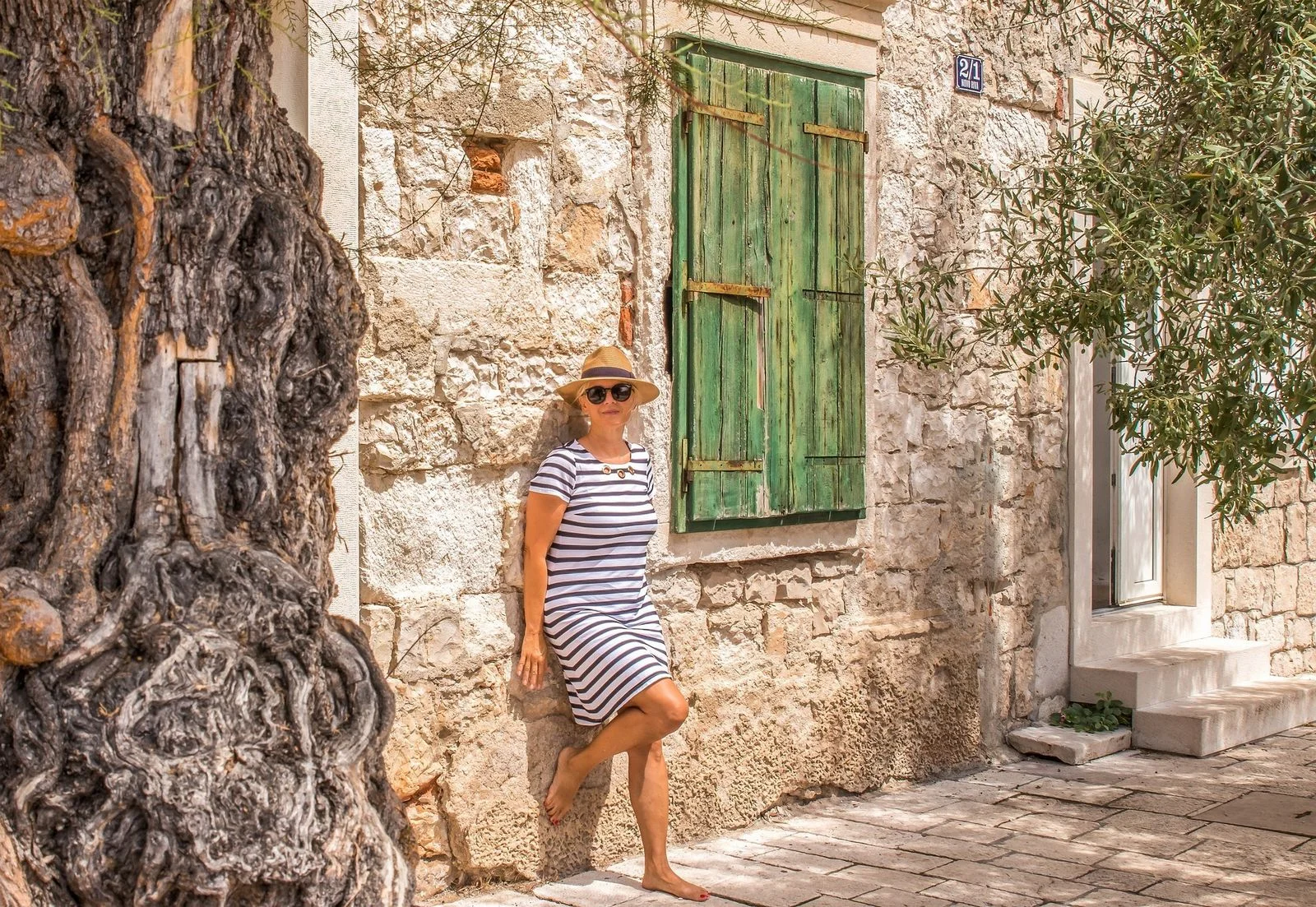 BLACA HERMITAGE
There's little difference in how the scenery in Blaca looks now and how it looked back in the 16th century when a few priests and their servants hid in the area while running away from the mainland and the Ottoman invasion. They found shelter in a cave and built out the hermitage from that. There are several ways how to reach Blaca, and almost all of them include narrow and unsealed roads. Picturing the streets to reach Blaca, try to imagine how hard it must have been for the priests and workers who lived here in the past. The monastery was in use for more than 400 years. Through that time, the priests living there have created quite an extensive collection of books, some 400 years old, walnut furniture, and even a printing press. Besides practicing religion in isolation, the priests were great wine, olive oil, and honey producers.
STONEMASONRY SCHOOL
The world-famous stonemasonry school is set in a grandiose building overlooking the sleepy but incredibly alluring town of Pučišća. The school was founded in 1909 and inducted up to 100 students yearly. Most of the students are from Brač, but there are also students from the rest of Croatia and Europe. This school is the only one in Croatia where students can obtain a professional qualification in stonemasonry. This school is the only one in this part of Europe that still teaches its students how to use the tools from Roman times. If you're lucky enough, you'll even be able to see students working with stones during your visit.
MURVICA DRAGON
Not far away from the fuss of Bol town, there is a village Murvica and the relatively isolated dragon cave with unusual relief decorations on the walls. It takes about an hour to reach this cave, and good shoes are a must. The shelter can only be visited on a guided tour, so make a necessary stop at Bol's tourist office. The cave walls are believed to have been decorated by priests who later formed the Blaca hermitage. The carvings include angels, animals, and a dragon, creating an incredible and unique blend of Christian and pagan symbols.
VIDOVA GORA
Vidova Gora is the highest point of Brač island, but also the Adriatic (778 m). There are two ways how the reach Vidova Gora. The first one for those who are fans of comfort is by car, and for those looking for some activity during their vacation, hike from the town of Bol. Whichever way you choose to get there, ensure you're adequately equipped. By that, we don't mean hiking shoes, but also phones and cameras to capture the stunning view of Zlatni rat beach and other Adriatic islands from the top.
ZLATNI RAT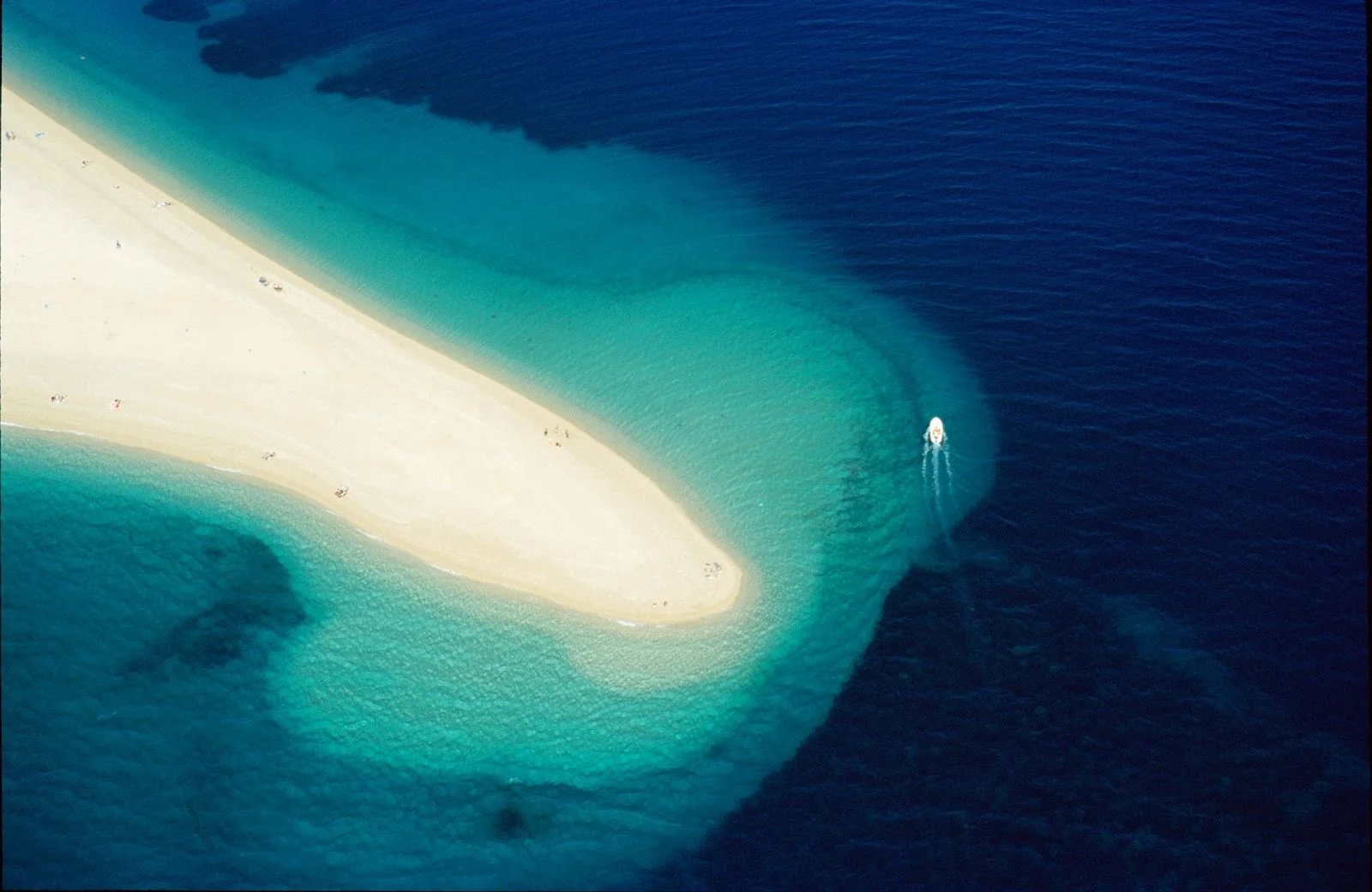 This natural phenomenon solely built by our mother nature is one of the most beautiful beaches on the Mediterranean and undoubtedly one of the most recognizable symbols of Croatia. Many famous travel magazines have mentioned Zlatni Rat (Golden Horn) as one of the unique beaches in the world. The beach is surrounded by crystal clear sea and dense pine trees planted by the locals decades ago. The sea color goes from turquoise to dark blue. One interesting and unique fact is that this beach changes its shape and position depending on the winds, tides, and currents.
BOL
Bol is a small town on the southern side of Brač island under the island's highest peak and the Adriatic, Vidova Gora. Except for Zlatni Rat beach, there are many other reasons why you should visit Bol. The true spirit of Dalmatia can be felt in Bol's narrow streets among the beautiful stone houses, many churches, and chapels, more than a 600-year-old monastery, small beaches in the center of the town along the promenade which connects the city with Zlatni Rat beach. Bol is an exciting destination for sports lovers. You can find fields and practice spots for almost all sports, such as tennis, volleyball, beach volley, kite surfing, paragliding, scuba diving, and many more. Besides many restaurants offering traditional Dalmatian and international food, you will find one of the greatest Croatian winemakers here, and a stop there is a must.
ŠKRIP
One would expect the first settlement on the island to be created close to the sea. Still, quite the opposite - the oldest settlement on Brač island is Škrip, a charming 3000-year-old village the inland approx. 10 km from Supetar. The town holds the marks of Brač's history, different cultures, and tribes one could have found here through history. Walking through the village, you will see the late renaissance castle of Cerinic, a mausoleum, a Roman temple, a couple of coffins, a provincial baroque parish church, and two places you must visit – the Museum of Brač island and the Museum of olive oil.
NEREŽIŠĆA and roof-growing bonsai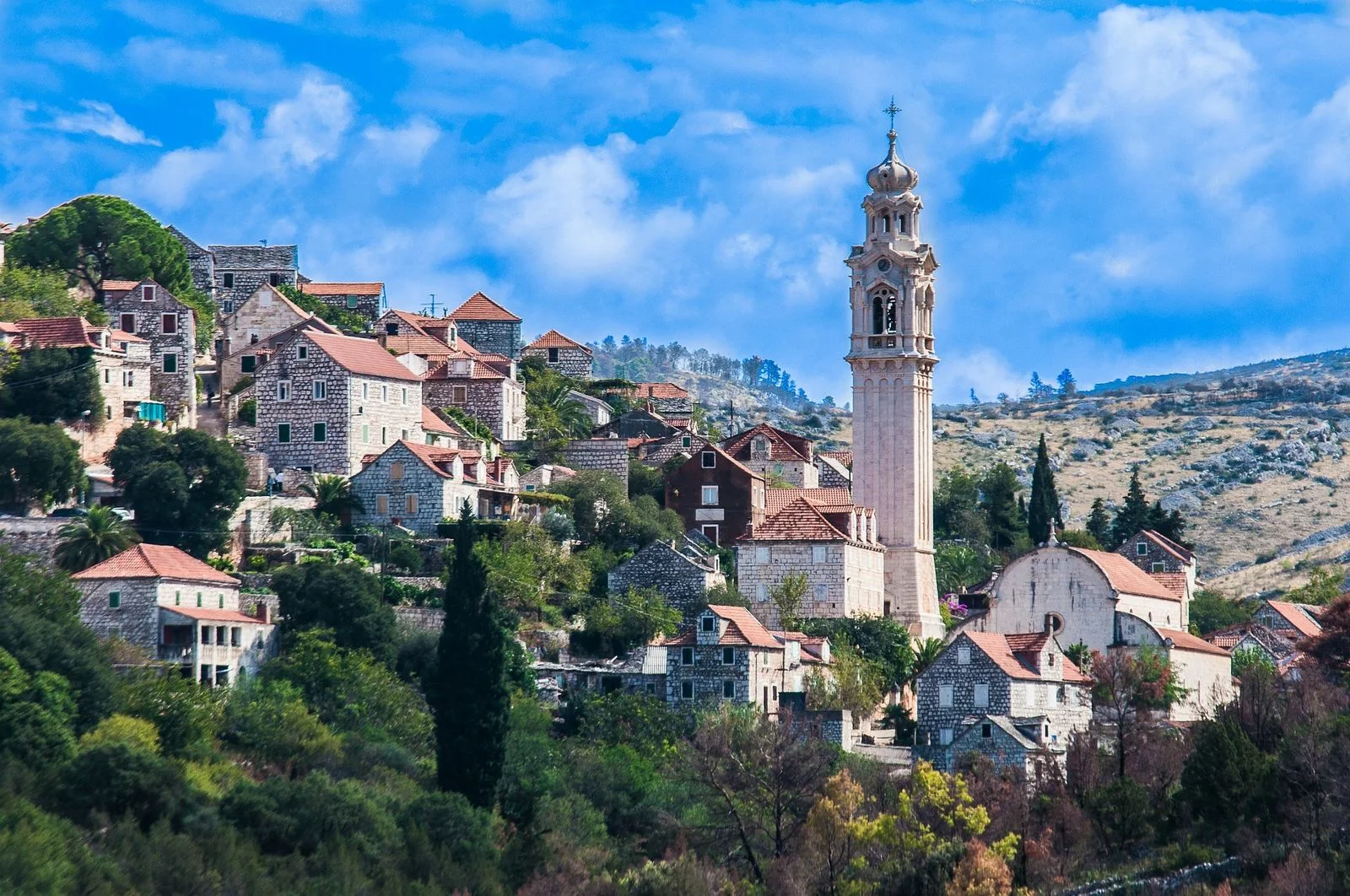 Nerežišća is a small village and municipality in the heart of the island, vibrant, with cultural and historical treasures. This village is situated at the crossroads of all the island's roads and paths. It is a typical Dalmatian village with stone houses, narrow streets, and small squares. The town is home to a natural phenomenon - 170 cm high and approximately two hundred years old pine, which grows from the church's roof dedicated to St. Peter and Paul. People like to say this pine is like a bonsai. It has become one of the symbols of not only Nerežišća but also of Brač island and Dalmatia.
POSTIRA
Thanks to its favorable geographical position, the town of Postira has always been a vital island harbor and fishing point. The whole area around the city is known for its fertile land, which ensured food and high-quality wine throughout history. In 1907 the factory for catching, processing, and preserving fish was opened and was fully operational. Besides the fish preservation factory, one can find the production of fine soaps produced by hand and unique due to very intriguing mixtures of essential oils. Beaches around Postira are worth exploring. Make sure you prepare yourself for a whole day excursion.
SUMARTIN
Remember the story about Blaca Hermitage? The refugees running away from the Ottomans? Well, some hid in the hermitage, and some have settled in this little piece of heaven and have founded the town of Sumartin. The main occupations of Sumartin's inhabitants are olive growing, wine growing, fishing, and of course – tourism. This town is pretty laid back, where one can relax easily. Many beautiful beaches, restaurants, little shops, beach bars, and boat rentals make Sumartin an excellent choice for your next relaxation.
Check out our Brac Croatia Villa Rentals!
ZLATNI RAT
More information about the natural phenomenon of Zlatni rat beach can be found in our previous post.
MARTINICA BEACH
Martinica beach is situated close to the town of Bol. It is dominated by the Franciscan Monastery which divides the beach into 2 parts. As many locals swim here, they usually refer to this beach as the "home beach ."It provides almost no natural shade, so bring the beach essentials. Refreshments can be found in the nearby bar.
MURVICA BEACH
This beach is situated close to Bol and Zlatni Rat. The relatively small Murvica beach has its charms. One of the steepest vineyards in Croatia is located above this beach, so you can enjoy the spectacular views while swimming. Refreshments can be found in the nearby beach bar.
LOVREČINA BEACH
This beach is situated on the north side of the island between Postira and Pučišća in the bay with the same name. This beach is known for its natural beauty and the archeological findings, which tell us that even Romans loved that area. The beach is primarily sandy and offers a natural shade. Refreshments can be found in a restaurant opened during the high season.
TRI MOSTA BEACH
This long, beautiful beach in Supetar is close to the town center. It offers many facilities for young and adults. Here you can rent a scooter, or a kayak, have some fun on the water, banana and similar. Sun chairs and parasols are available for rent, and refreshments are available in bars and nearby restaurants.
Looking for Villas in Brac Croatia? You are on the right place!