The Korcula Island in Croatia is an island in central Dalmatia and it's the second most populous Adriatic island. Mediterranean flora, including extensive pine forests, is covering the whole island. Thick, dark forest was the reason for its name. When the Greek colonists from Corcyra (Corfu) formed a colony on the island in the 6th century B.C. they named it Korkyra Melaina (Black Korkyra). If you are not sure why should you visit Korcula Island read about what to do and to see in Korcula.
Magical nature and vivid sights
Dens, dark forests still exist, and you can enjoy in a nice walk in the shade of holm oaks, rare dark-green cypresses and maquis, throughout the whole island. Muddle up (scattered) in the woods you will find vineyards, olive groves and hamlets. Along the shore, breath-taking views - at a small and uninhabited archipelago consisting of sixteen islets, open sea, Lastovo Island or, from the Vela Luka, one of the most beautiful sunsets you'll have chance to see in your life, will delight you.
Culture
Moreška dance, Korcula - credit to Stjepan Tafra
You must see, if you come to Korcula, the sword dance Moreška, a traditional drama/dance, one of Korcula' official symbols. During the dance, the participants (males from Korcula town families) wield two sabres in their hands. This fierce dance represents the battle between Red and Black armies. Red ones are traying, and after seven battles succeed, to save Red Kings' bride who was kidnapped by Black King. It's traditionally performed on July 29 (St. Theodore's Day) but during the summer weekly. You, probably, haven't seen anything like this and it is well worth a watch. Besides Moreška, there are two more village sword dances you can enjoy in, both unique and beautiful. Kumpanija - performed in villages Žrnovo, Pupnat, Čara, Smokvica, Blato and Vela Luka during summer months. And Moštra, which is performed only once a year - on August 15, in Postrana. Korkyra Baroque Festival was established in 2012. It hosts prestigious international and domestic ensembles and soloists, specialists in the performance of baroque music. Its success is founded on superior artistic musical offer.
Sea, beaches and Korcula accommodation
Korcula offers warm, crystal-clear sea, lot of suns and since it has an indented coastline, numerous beaches and bays. North shore is flatter and pebbly, and the steep southern coast has many quiet coves and small, some even sandy, beaches. You can choose between many villas and apartments; it depends on where you want to stay in Korcula. If you love the idea of waking up to the sound of the waves on the beach, feeling the light breeze on your skin, access the beach as soon as you step out of your house - the perfect holiday for you is a vacation in private villa Vesna. It is a new luxurious four-star villa, located in small place Prižba on the south side of the island, suitable for up to 8 persons.
If you prefer to be near main, bigger towns, but to have absolute privacy with direct sea access, luxury, spectacular villa Opium is the ideal for you. Comfortably designed, this five-star villa, staffed with a villa host, will give you stunning views, truly relaxing vacation, private sea access and much more. It's located just 5 km from Korcula town.
Architecture
Lovers of old architecture have plenty to see on Korcula Island, especially in its main town, also named Korcula. Old Towns' system of ramparts is very well preserved. Its entrance from the south - Land Gate, is worth seeing as well as magnificent St. Mark's Cathedral. Also, there are many well-preserved squares, churches, and other buildings, which date from the early 13th century. The place that might tickle your curiosity is the birth house of Marco Polo - the worlds' most famous merchant and traveller. He was Venetian, but historians trace his origin to Korcula. Today, at the place of, we believe, his birth hose you can visit a house - beautiful museum featuring puppet-made scenes from his life. It has watchtower which is more than worth of climbing up. The views from the top are enchanting. Vela Luka, on the western side of the island, is known for its prehistoric archaeological findings. The archaeological finds Vela Spila (Big Cave) prove that the cave has been continuously inhabited from the early Stone Age. All finds can be seen in the Centre for Culture. You can visit Vela Spila as well. In Lumbarda, you can see a stone inscription from the 4th or 3rd century BC. It's a written decree about establishing a Greek colony.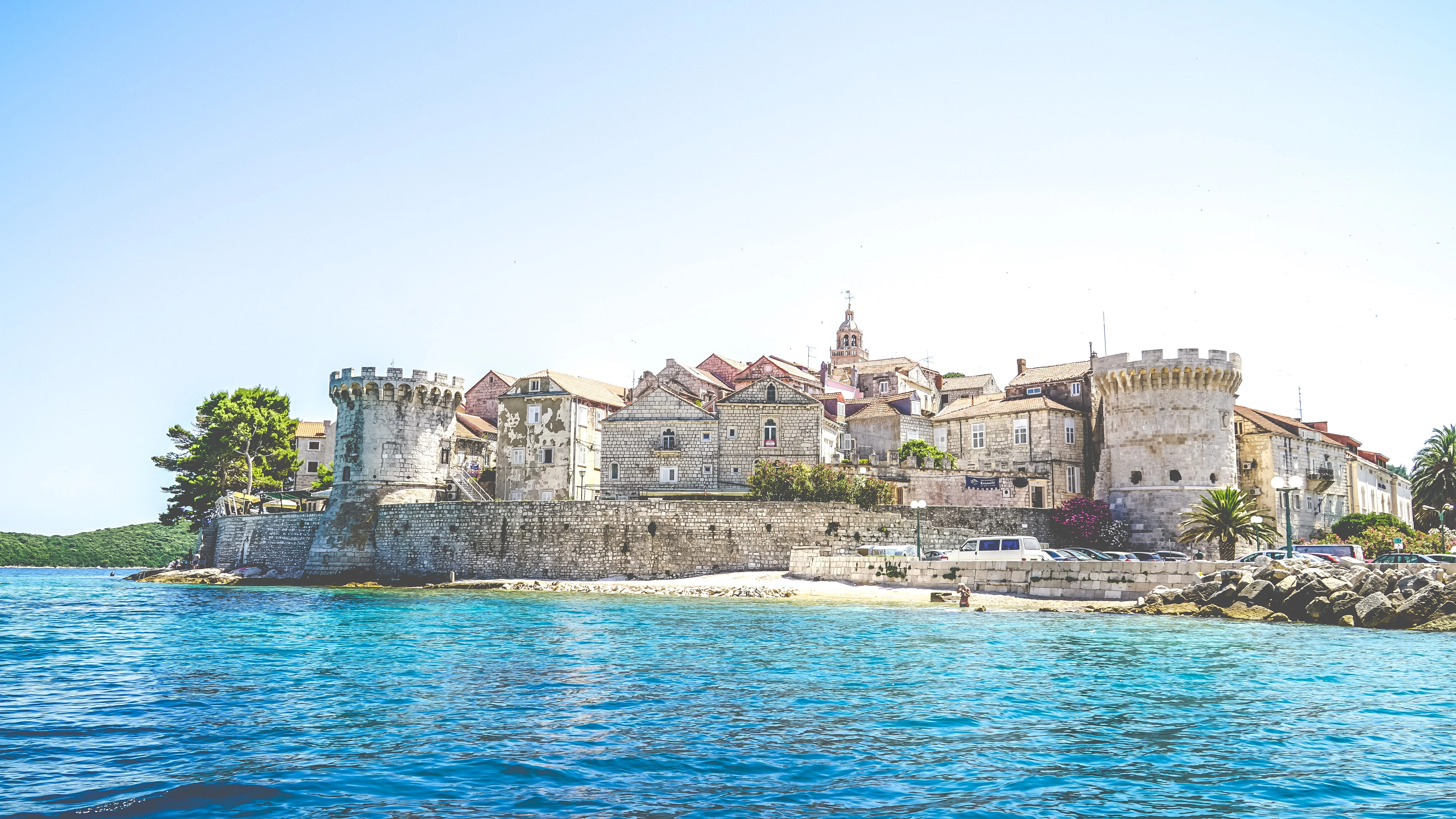 Wines
Besides architecture, culture and natural beauties, Korcula is renowned for its winemaking. Locals produce white wines from its indigenous grapevine varieties. The most known are pošip, grows in the central region of the island, and grk, which grows on the eastern of the island. Pošip is one of the best Croatian white wine, and Grk is also quality dry white wine. Wines from Korcula are notable for their fine acidity. You can go to wine tasting tours or buy some local wines and enjoy it in the privacy of your villa while sitting on a terrace and enjoying a view. There is so much more you can see or do while having Korcula holidays. If you are interested in spending your vacation there let us know and we will find a solution that fits your wishes the best.