You have chosen to spend your family holidays in Croatia – lucky you! 😊 Brač Island is the largest Dalmatian Island and the highest Croatian island, with its peak of Vidova Gora, which you can reach by car and enjoy the breathtaking views.
Among all the things Brač island is known for, few things stand out: its radiant limestone used to build the Diocletian's palace in Split, and pillars in front of the White House in Washington DC, among others; Zlatni rat - pebbly beach shaped as a horn that you already know at least from some travel magazine; wine, lamb meat, and olive oil.
This island has incredible landscapes, and here you'll see the best nature has to offer, limestone, steep hills, pine trees, olive trees, vineyards, inky waters, pebbles, bays, and coves. Besides the magnificent nature, this island will enchant you with its charming architecture, mystical history, quiet and intriguing villages, and rich and diverse gastronomy.
If you're planning a trip to Brac Island in Croatia, Sumartin is a quaint and charming little place you won't want to miss. This picturesque fishing village is located on the eastern end of the island. It offers a quiet retreat away from the hustle and bustle of the more popular tourist destinations, ideal for family holidays in Croatia.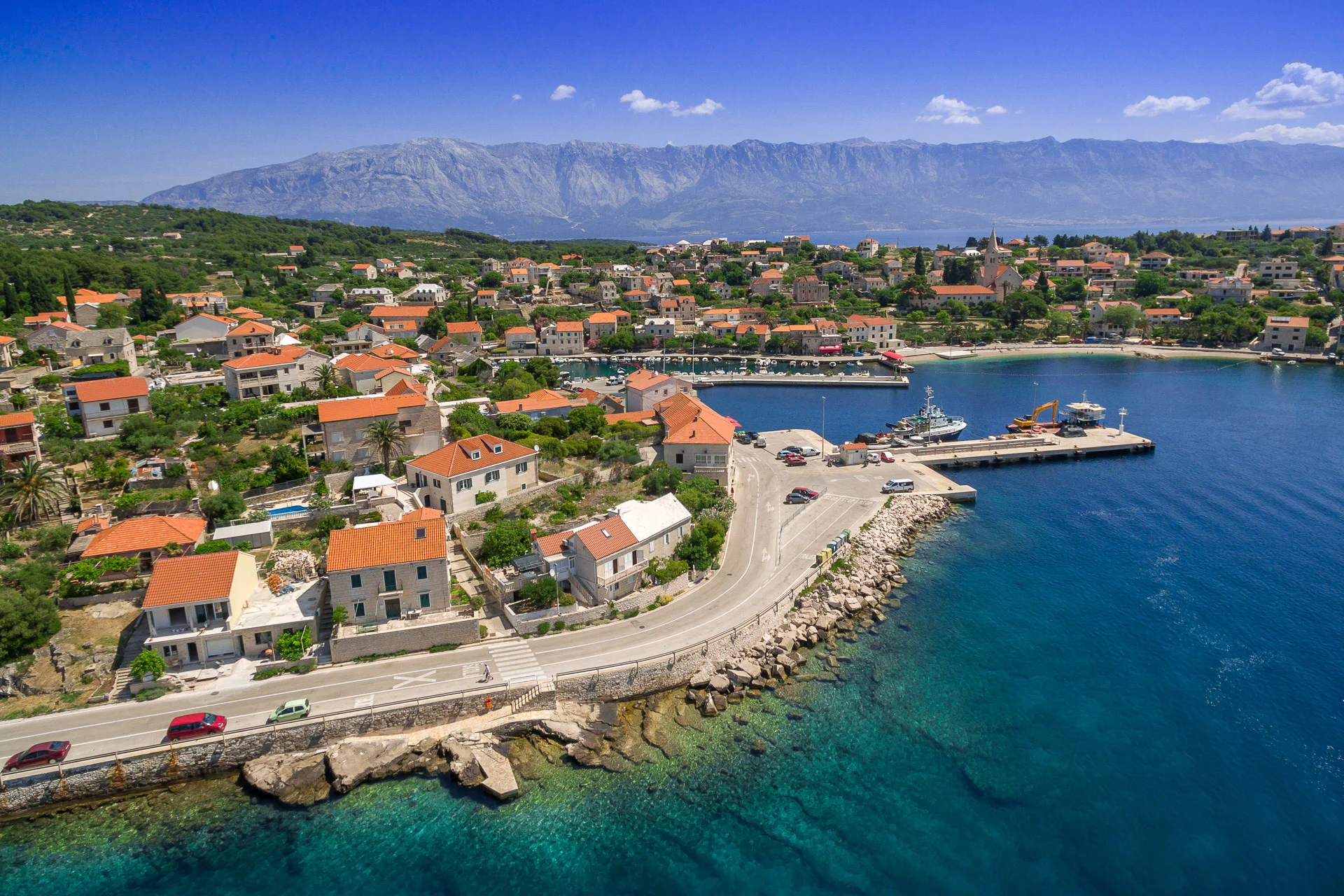 Getting to Sumartin may seem daunting at first, but with some planning and preparation, you'll find it easy. Here's the ultimate guide on how to reach Sumartin.
By ferry from Split
The most common way to reach Brac Island is by ferry from Split, the largest city in the region. If you are coming by aeroplane to the Split Airport, the ferry port is approximately 24 km away. Usually, it takes about 35 minutes, but please note that it can vary greatly depending on the traffic and weather conditions.
There are two ferry companies that operate between Split and Supetar – the main port on Brac Island. They are Jadrolinija and Kapetan Luka. The journey from Split to Brac Island takes approximately 50 minutes, and the ferries are frequent during summer. You can check the schedule on the links above.
The town of Sumartin is situated southeast of the Island of Brac. To reach Sumartin, it's possible to travel from the two ferry ports, the one from Split which is in Supetar (frequent ferry lines, 40 km from Sumartin), and from Makarska (rare ferry lines).
Once you arrive in Supetar, you can take a local bus to Sumartin. Buses depart from the bus station located next to the ferry terminal. The journey takes approximately 1.5 hours, and the buses are frequent.
By ferry from Makarska
If you are coming in a car and decide to come to Sumartin from Makarska, that is also possible. From Split Airport is possible to come to Makarska via A1 highway (approximately 111km, 1:20 min trip, not that much traffic in the high season) or coastal road by the Sea (about 80 km, 1:20 min). This road is hectic at the season's peak but much more interesting, with multiple exciting places to stop for a quick break.
From Makarska, take a ferry to Sumartin. The journey is about 1:20 min. Please note the ticket for the vehicle is also a reservation. Arrival at the port by 45 minutes before departure is required.
By private transfer
If you prefer a more direct and convenient option, you can arrange a private transfer from Split to Sumartin. This is especially useful if you have a lot of luggage or travel with a family or a group of friends. We can arrange all the transfers for you in advance; feel free to contact us anytime.
By car
Another option is to rent a car in Split and take the ferry to Brac Island. This will allow you to explore the island at your own pace and visit other villages and attractions along the way. The journey from Supetar to Sumartin takes approximately 50 minutes by car.
In conclusion, reaching Sumartin on Brac Island is easier than it may seem. Whether you take the ferry, arrange for a private transfer, or rent a car, many options are available to suit your needs and budget. Once you arrive in Sumartin, you'll be greeted with stunning views of the Adriatic Sea and a laid-back atmosphere that will make you feel right at home.
If you are still looking for a perfect villa for a family holidays in Croatia, check out our Brac villas and contact us for more info!