Can you imagine that there is an island where the stone is considered to be a treasure? An island which has a cave that hides a dragon, and whose hard-to-reach terrain is home to an impressive monastery built among rocks? All these hidden gems are on the Brač Island - the largest Dalmatian island whose name, due to the specific letter at the end, gives a hard time to every foreigner who tries to pronounce it correctly from the first attempt. Remote just an hour's ferry ride from Split, Brač Croatia is an island of rich gastronomy, clear blue sea, imposing history and most important: no city bustle, making it worth to be listed among places that you want to visit during your hidden Croatia holidays.
Town of Pučišća: a Place Where Rock Rocks
Photo by: Waerfelu / CC BY
Due to its favorable location on the maritime trade route, Brač Island will be included for the first time in the geographical map as early as the 2nd century. Two centuries later, this island will become very important to the great emperor of the Roman Empire Diocletian. He will take the stone blocks from island of Brac to build his palace in Split, now a world-famous UNESCO-protected heritage site. From these ancient days until today, the stone industry of the island has lived through generations and generations of stone cutters. Their pride lies in a high-quality white limestone stone from Brač Croatia, that reminiscent of marble, and which is harvested in several quarries on the island (yes, they harvest the stone!).
Apart from using it to construct churches and palaces of local nobles, this Brač Island treasure has been exported all over the world since ancient times, and today can be found in some of the most famous works of architecture as the lobby of the United Nations building in New York, the of Parliament in Vienna and the Parliament in Budapest. There is a story that parts of the White House in Washington are built of Brac stone as well.
The place where some of the best Croatian sculptors and stone-carvers have acquired their knowledge about stone is Stonemason School in Pučišća on the island of Brac. After three years of education at this inspiring place, the future stone masonry masters take another three years of practice and then approach to master's exam. As master craftsmen, they open their own stone masonry workshops in which they make genuine art products with their own hands. The Stonemason School is open to visitors during the summer, so anyone who wishes can visit it can view the students' works, and learn more about the stone from Brac Island.
The Dragon Sleeps in the Dragon's Cave on Brac Island
Throughout the centuries, for the people of Brac, the stone was not only a building material but much more than that. In its natural form, it provided shelter and protection for those in need, gave them peace and desired anonymity. Today, visitors from all around the world come to these mystified places to rediscover and admire them. One such amazing place is Dragon's Cave, situated on the southern slopes of Vidova Gora, a 30-minute walk from the village of Murvica.
Photo by:
Martin Brož / CC BY
Dragon's Cave is named after the dragon relief carved on its interior. Who is the author of the mysterious comfort unknown? It is considered a hermit monk from the 15th century who carved it when Glagolitic monks stayed in the Cave (Glagolitic: Croatian alphabet used in the Middle Ages). Throughout history, the Cave has served as a hermitage - a lonely place for hermits to stay so they can pray in silence.
Even though the Cave is only 20 meters long, it is divided into four units. The first partition has a small chapel dedicated to the Immaculate Conception of the Virgin Mary with an altar carved into a rock. At the same time, additional spaces are intended for the dwelling of hermits. The western side of the Cave has a relief of a dragon, moon and a beast (probably a lion), while the east side above the chapel shows people and birds in the nest. Different from each other, the symbolism of reliefs has yet to be fully understood. Still, it reconciles two traditions: the new Christian one, and the old, pagan, Slavic one, depicting the way of life of the time.
The Dragon's Cave was abandoned in the first half of the 20th century but still retains Slavic myths about fairies, witches, werewolves, and Orkomarin, a one-eyed giant living in a cave. Due to the theft and damage in the recent past, it is now closed with an iron door, so if you decide to visit it on your hidden Croatia holidays, you must arrange visitation with a local guide who has the key.
Hidden Among Cliffs: Blaca Desert
Fleeing from Poljica in front of the Turkish army in the 16th century, Glagolitic monks came to Brac, Croatia and settled in a place surrounded by cliffs between Bol and Milna called Blaca desert. Although it is called a dessert, Blaca has no sand. It is a place where monks lived in complete solitude, isolated, as hermits, dedicated to prayer and spiritual life. Even though it is not sure who precisely these Glagolitic monks who inhabited Blaca were, some believe they were priests who originally lived in the Dragon's Cave.
Although they chose to live in solitude, far from the villages, with time, monks developed a monastic cooperative, and in 1570 they received permission to raise the monastery and church. During this time, monks built several buildings in Blaca, all connected by corridors and stairs.
Despite the inaccessible scenery and scanty island land, devoted, hardworking monks have produced their wine and other cultures, making Blaca one of the most substantial economic entities on Brac Island. They have invested the money they earned in different things, such as elegant multi-storey buildings for various purposes and a school attended by students from surrounding villages. Many buildings have been preserved to this day, offering impressive insight into the former life of the Blaca desert.
In the 18th century, Blaca had several accidents, after which the economy began to weaken, and accordingly, the number of hermits declined. With the death of the last warden, priest Nikola Milicevic in the 20th century, this desert of Glagolitic monks has been extinguished. However, today the Blaca has been turned into a museum, showing its fascinating history to curious visitors who visit it during their hidden Croatia holidays. Monastery and Museum hold different antiquities, among which a collection of old weapons, watches, a rich library, a small printing press, and an observatory with a telescope.
Before you decide to visit this place, it is worth noting that the Museum does not operate on Mondays. Also, the Blaca Desert can be reached from several directions, but one part of the way has to be passed exclusively on foot, and it is usually half an hour of walking. However, once you reach your goal, you can enjoy a breathtaking view worth hiking.
A House in a House
Last on our list, but indeed no less attractive, is a stone House in a house situated in Bol. Yes, as the name implies, this is a house built around another house, listing its unusual architectural solution among protected cultural monuments of Croatia, making it a true attraction still unknown.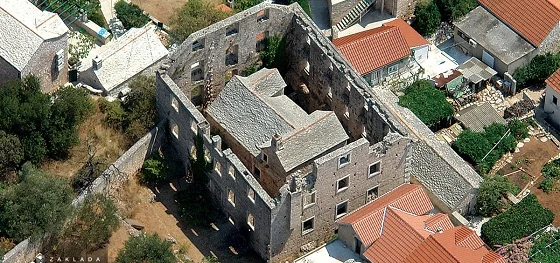 Photo credit:
PAUL BRADBURY
Behind the House lies the legend of six brothers of the wealthy Vukovic family and a grumpy man called Marko Sila (Force) who built his House on their land. Of the six brothers, three were priests, and three were naval captains. Captains sailed their sailboat, traded throughout the Mediterranean, and finally decided to marry three Spaniards and build them a large house on their land, exactly where Marko's House was. To make the House, the brothers offered Marko lots of money to buy it from him, but Marko did not want to sell his House. The Vukovic then turned to their friend, mayor Vužić, for help mediating, but Marko quarrelled with the mayor and threatened him with death if he tried to take a house away from him. Due to threats, the mayor decided to put Marko in jail, but he fled from Bol to the Dubrovnik Republic. When Marko escaped from Bol, the Vukovići began building their palace and erecting walls around Mark's House, intending to demolish it later.
When Marko heard this, he returned to Bol and set explosives under the palace walls but was stopped by gendarmes and had to flee again. The Vukovići continued constructions, erected three floors and now had to lay the floors and the rooftop, so they travelled to Venice for timber. They loaded the ship and headed back to Bol, but on their return, they were caught in a big storm: the boat sank, and no one survived. As none of the six brothers had children, the Vukovic family became extinct, and a few years later, Marko Sila returned to live in his House, now known as the "House in the House."
We are sure you are convinced by now - Brac Island is on your bucket list!
If you need suggestions on choosing your dream holiday in one of our villa Brac Croatia, don't hesitate to contact us; we'll be more than happy to help.